Home security should always be a top concern, and the number of burglaries and thefts in England and Wales has risen again this year to over 3.5 million. Protecting your family and your belongings is incredibly important, so here at Door Superstore, we've put together a guide of quick fixes to help improve your home security.
---
Table of contents
---
Door locks
It's crucial to ensure you have the best door lock on your external doors, as they are often the first point of entry that burglars and intruders look to. Depending on your insurance policy, you may be required to have a specific minimum level of security on your external doors, so it is important to check that your locks are compliant – if they aren't and you experience a break-in, the chances are the insurance won't cover you.
The five lever mortice lock is the most common lock used on front doors, because it can only be opened with a lock, and the number of levers makes it much more difficult to pick. The five lever mortice lock generally conforms to British Standard BS3621, which is the standard most insurers will state your locks conform to. However, it is important to double-check that your five lever mortice lock conforms to these standards yourself by looking for a BSI kitemark.

---
Night latches
Fitting a night latch onto external doors can help improve your home security. Although they shouldn't be used as the only form of security on external doors, they ensure that your door is bolted as soon as it is closed without the use of a key. We'd recommend combining a night latch with a five lever mortice lock, to provide you with extra security and the reassurance that your home is safe from intruders.
---

Door closers
Add a door closer to your door for extra peace of mind – the door closer will ensure that your door closes properly after it has been opened, and not left ajar, opening your home up to unwanted visitors. Choose from a range of door closers that are spring-loaded or hydraulically operated, and they will not only ensure your door closes fully when you leave, but they can also prevent the door from slamming which often weakens the door over time.
---

Smart locks
Smart locks help to bring your home security into the 21st century, giving you complete control over access to your home, even when you're not there. Grand access to members of your family and friends through a key tag, pin code, or mobile key to let them into your home, and specify the time at which the key is valid.
Losing your key can result in strangers being able to access your home and prized possessions, but with a smart key, you can simply block access or remove access from any key tags or phones that have been lost, preventing strangers from accessing your home.
If you're spending the evening out, you can monitor who enters and leaves your property using a mobile app, giving you extra reassurance regarding the safety of your family.
---

Spyhole viewer
Installing a spyhole viewer, also known as a peephole, can help to prevent strangers and possible intruders from entering your home. If someone is at the door, your family can use the spyhole to see if it is anyone they know before opening the door to them. This way, when unwanted visitors turn up, you don't need to open the door to identify them, meaning they don't have access into your home.
---
Window locking handles
When intruders or potential burglars cannot get into a home through the door, they are highly likely to look to the windows as a point of entry. Installing window locking handles will help to prevent entry through your window when they are closed, whilst still giving you the option to open the windows when you're home. Most window locking handles lock automatically when fully closed, and open from the inside with a simple push of the button.

---
Window restrictors
If you often leave your windows ajar for circulation, and to allow heat out on hot days, your home is at a higher risk of a break-in. Window restrictors allow you to keep the windows slightly ajar to provide air circulation but prevent windows from being opened wide enough to be a point of entry for intruders. Simply attach one end of the cable to the window frame, and one to the window itself. These window restrictors can be simply unlocked with a key when required, meaning that they aren't permanently restricting the window opening, and the window restrictors can also be used as a child-resistant locking device.
---

CCTV cameras
CCTV cameras, if visible on your property, can act as a great deterrent to potential burglars and intruders. As well as the visible presence of a CCTV camera putting off potential intruders, a CCTV camera allows you to monitor and record live footage from your property, and note if there is any suspicious activity around your home. Additionally, some systems allow you to receive alerts on your phone if any activity is detected.
If you are unfortunate enough to experience a break-in, the CCTV cameras will help to identify the suspects and provide crucial evidence to the police.
---

Smart home alarm kits
Smart home alarm kits can provide a complete system to ensure your home is kept safe and untampered with when you are not there. Kits can come with components such as motion detectors, door sensors, a control panel and even an outdoor siren, or these pieces can be purchased individually. With improvements in technology, the system is wireless and controlled by a single keypad control panel, or can even be controlled by your phone, and the system can have up to 20 different components connected.
---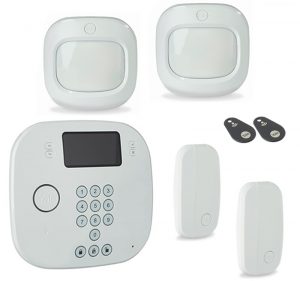 Intruder alarm kits
Alternatively, you can opt for a simple intruder alarm kit, which you activate when you leave the house, and deactivate when you return. These alarms can be incredibly simple and activated using a code, or you can opt for a smart intruder alarm kit which is activated using a tag. Smart alarm kits can also be connected to your phone, triggering a phone call in the event that the alarm is triggered.
---
If you have any questions about improving home security or are looking for advice, feel free to contact our team on 01752 422 501 and they will be more than happy to help.
Was this guide useful?
Let us know if you liked the post. That's the only way we can improve.
Need more Help & Advice? Speak to our Super team on 01752 422 501
Can't find the Help & Advice you need? Speak to our Super team today on 01752 422 501