External doors are one of the first things you or others see when approaching a property. Whether that is an external front door entrance or back door patio entrance, the external door is a vital feature for any domestic or commercial building. To ensure you make a good impression, find out more about external doors and other key advice below!
---
Table of contents
---
What is an external door?
An external door, also known as a front door, is needed for properties to allow entrance and exit from a building. Thanks to modern manufacturing, they now come in a variety of materials and styles to suit a vast amount of requirements. You can also opt for inward or outward opening external doors depending on what is needed.
Many external doors are also designed with fire safety in mind, with many being manufactured with an FD30 rating. Approved Document B states a few key requirements when it comes to external doors and fire safety. Including cases where a basement or upper storey with a maximum of 4.5m above ground level may apply. Check out our fire door guides for more information about fire safety in domestic and non-domestic settings.
When it comes to your main form of security, an external front door in some cases will require specific features depending on the property type. For example, if the main door for entering a dwelling is within a block of flats, Approved Document Q states the 'door should have a viewer unless other means exist to see callers'. This could include 'clear glass within the door or a window next to a doorset'. It's also worth noting that a chain or door limiter is advised to be installed on the same doorset to add further security.
Keeping security in mind, if you are a homeowner then it's advised you invest in a multi-point locking system. An example of a higher form of lock is the mortice British Standard 5 lever sash lock. This is favoured by many as it is considered a strong form of security for its BS rating.  You can find out more about sash locks in our guide 'what is a sash lock?' Alternatively, you can find more information about dwelling security via Approved Document Q.
If you would like to know more about building access and legal requirements surrounding external doors, you can look to Approved Document M for more insight.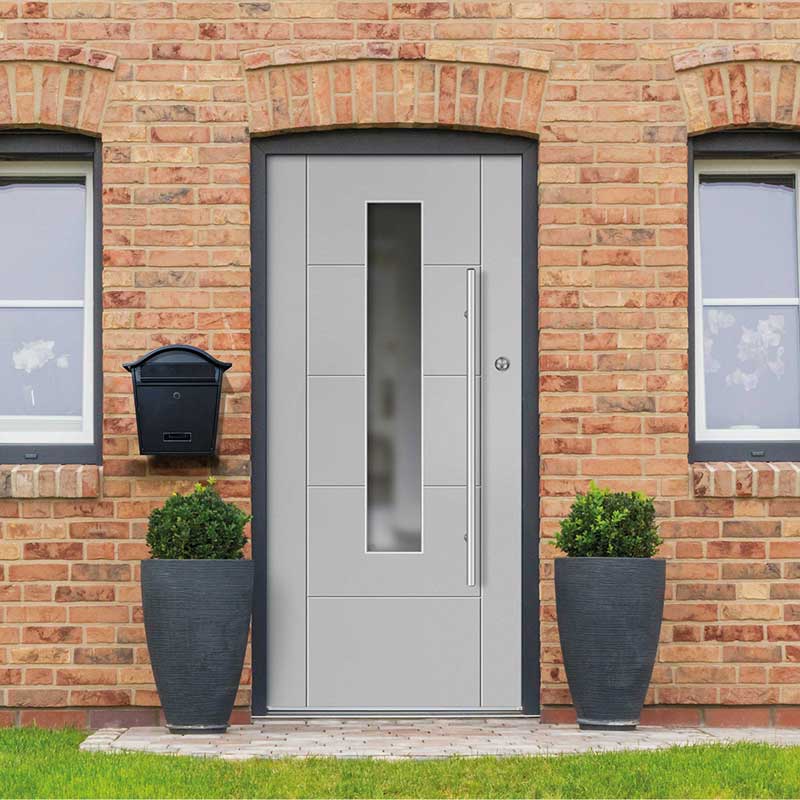 What are standard external door sizes?
In the UK there are typically several common external door sizes. The size of the door you choose will depend on width, height and thickness. Thickness is a popular consideration as this can contribute to the durability of a door and in some cases support insulation of the property. A minimum thickness of 44mm is recommended regardless of whether it's a front door, garage door or external fire door.
Here is an overview of common external door sizes in the UK:
Non-standard external door sizes are also important to consider. They may not be as common, but it's still worth taking a look at. You might just be part of that percentage of people in need of a less common door size.
Metric door sizes (mm)
Imperial door sizes (inches)
Imperial door sizes (ft and inches)
1981 x 915
Shop this size
78" x 36"
6'6" x 3'10"
2032 x 813
Shop this size
80" x 32"
6'8" x 2'8"
2040 x 926
Shop this size
80" 1/4 x 36" 7/15
6'8 1/4" x 3'0 1/16"
If you cannot see your door size within standard or non-standard sizes, give our helpline a call to discuss your requirements and we'll be able to offer some guidance. If you're also in the market for internal doors, you can view our UK door sizes and conversion chart for more information about interior door measurements. Moreover, you can view our guide to standard door frame sizes in the UK to make sure you have the right external door frame for your new exterior door.
It's also worth noting that door pairs and garage doors have specific requirements when it comes to size. For door pairs, you will need exact measurements to avoid overlapping or gaps when they are fit into a double door frame. For garage doors the sizes differ, meaning you will need to look at separate sets of garage door sizes to find the right door for that entrance to and/or from the house.
Popular garage door sizes are as follows. If you do need a larger or smaller door, check out our range of garage doors at Door Superstore or contact our customer service team for further advice.
Metric door sizes (mm)
Imperial door sizes (inches)
Imperial door sizes (ft and inches)
1981 x 2134
Shop this size
78" x 84"
6'6" x 7'0
2134 x 2134
Shop this size
84" x 84"
7'0 x 7'0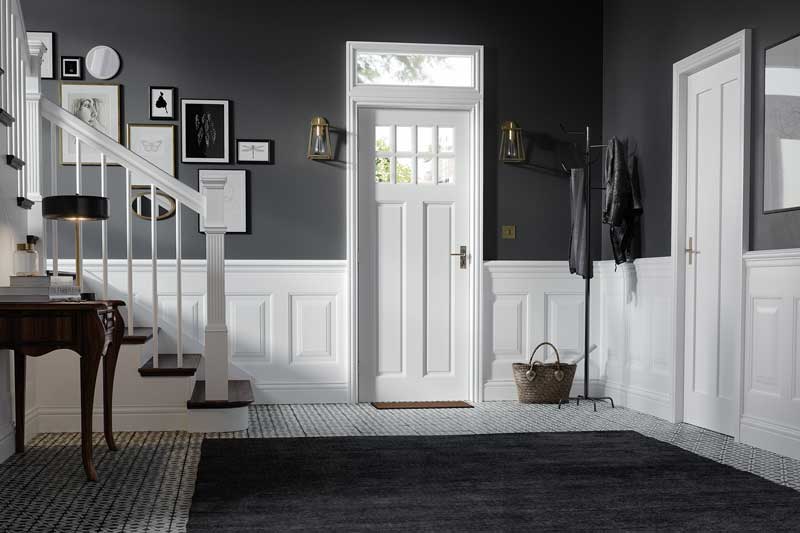 Which external door is best?
An external door does not just include the standard, plain front door. As we've already mentioned, an external door could also be a glazed french or patio door. Other external doors include:
Shed doors
Garage doors
Wooden gates
Stable doors
External sidelights
Composite doors
The question of which is the best will depend on the use of your external door. However, if we're only in consideration for a typical front door, then look to external wooden doors, composite doors and external sidelights. It's also important to know that even though wooden doors are used for external purposes, hollow wooden doors are not advised. This is because they can be a risk to security as they can be easily broken. So solid-core wooden doors are recommended to improve the prevention of a break-in.
For some inspiration, check out our Front door ideas that will transform your home!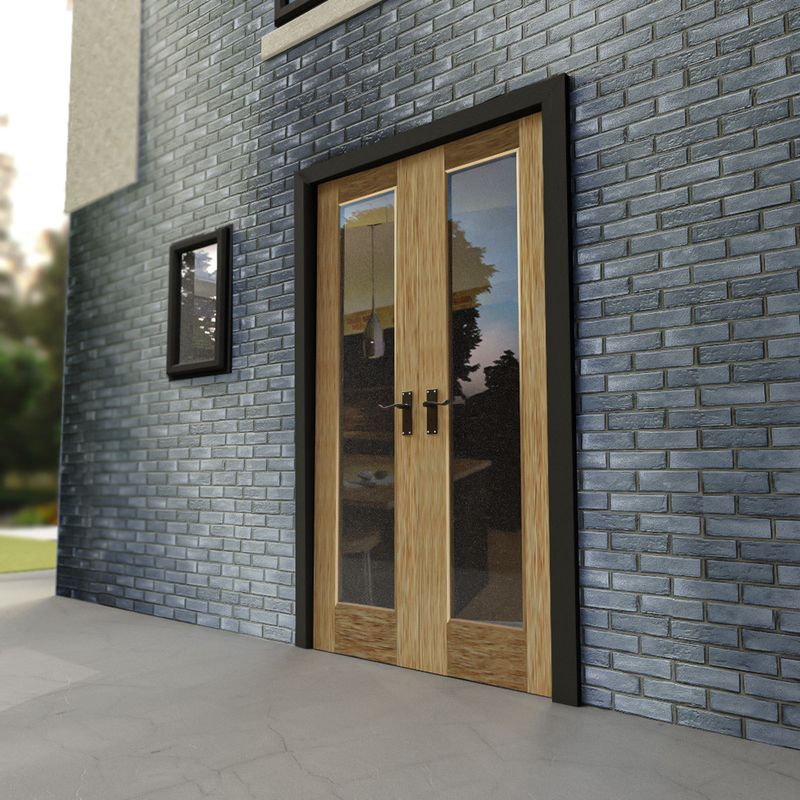 ---
How to fit an external door
The fitting of an external door will depend on the type of external door you want to install. Whether you're fitting a new external door or you want to know how to replace an external door, you can find out more about fitting external doors through the following guides:
You can also find out what things you will need to do to maintain an external door via our guide on how to maintain internal and external doors.

How to replace a glass pane in a wooden door
Regardless of whether the glass is damaged, discoloured or you simply want a new pane, replacing just the glass within a wooden door is not only crucial for appearance and safety; it also comes with its benefits. Here are just some of the reasons why:
You can save money
If the glass on your external door is the only feature to have been damaged, replacing the glass alone means you'll be shedding the cost that may come with replacing your external wooden door entirely. So you can keep the main faces of the door in place without having to remove or affect the structure in its entirety.
Less complicated than a full wooden door replacement
Replacing a wooden door can not only be a financial burden, but also a complicated one. With a full door replacement, you would need to think of getting the right size door, how you're going to dispose of it and in some cases even get new door keys cut. It can also be a lengthy process as you're focusing on replacing the whole door and not just one aspect. If you do decide to replace the whole door, you also risk having to deal with a door that has broken glass for a longer period which can be a hazard to those entering and exiting the property.
Most modern windows have up-to-date manufacturing
The style and manufacturing methods of many windows or panes have changed over the years. If your window is of an older model, then it may be out-of-date in terms of its style as well as the risk of common faults such as drafts, leaking, cracks, condensation and more. By getting new glass panes, you can choose to have better-performing windows that could also support the insulation of your property.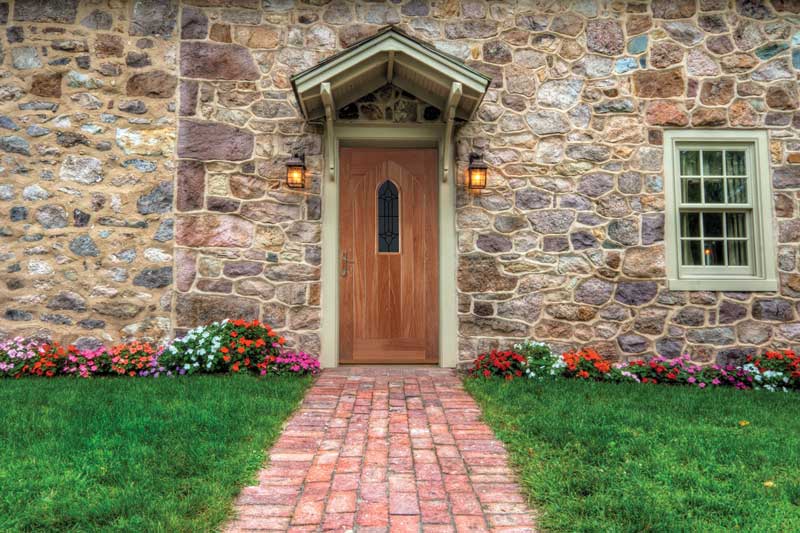 How to fit glass in a wooden door
An important thing to note is that although it may be considered an easy DIY job for most home or business owners, professional help should be considered if you are uncertain at any stage during the steps below. Please do contact a professional if you feel unsure at any point in the process.
Here's what you'll need to replace a glass pane in your wooden door. For this example, we will be focusing on glass panes with wood moulding and no glazing around the outside of the pane.
Gloves
Safety glasses
Container for disposal of old glass
Hammer
Masking tape (aka painter's tape)
Utility knife
Pallet knife (x2)
Glass pane (safety glass recommended) that is ⅛ (one-eighth) of an inch smaller than the pane opening
Galvanised nails (brad nails) (optional)
Compressor nail gun and finished nails (brad nails) (optional)
Caulk
Vacuum
Now onto replacing a glass pane in a wooden door!
Step one: Put on your gloves and safety glasses and remove the existing glass carefully from the door. This is usually pretty easy, but you might need to use a hammer or similar tool to gently tap and break off the glass that cannot be pulled away by hand. If you decide to do this, use masking tape and place it onto the glass before you do so. This can help reduce the risk of glass shattering excessively and being scattered all over the place.
Step two: Clear up the leftover shards of glass around the flooring and general area you are working in with a vacuum. Not doing so means that you could encounter movement of the glass as you work along with the obvious health and safety hazards of dealing with glass.
Step three: Next you will want to remove the moulding from the space where the pane was sitting. Using your utility knife, loosen the moulding by pressing the knife gently into the outer edge of the moulding where it fits against the door. Repeat this process a few times, following it all the way around and making a deep enough cut to ensure it is easier to remove.
Step four: Now use the pallet knives to put into the spaces you dug into with your utility knife to start gently pulling away from the moulding. Do this by placing one on the front of the moulding and one on the back and pulling towards the centre. You can make this easier by pulling the back one towards you and the front one outwards.
Do not rush the process as you can risk snapping the moulding as it is pulled away. Not only is it a problem with regard to safety, but you will also have to find a moulding that matches the one you removed which in many cases can be difficult to do so. Follow the moulding all the way around. If you have been successful, you can clean up the moulding by sanding it and removing any excess strip pieces of wood that are coming off.
Note: If glazing was around the outside of the pane of glass, you would need to scrape it away.
Step five: Clean up the space where your pane will be sitting and grab your new glass pane. Sit it inside the space where the old pane was and hold it to make sure it doesn't fall forward.  If the prior steps have been done successfully, the pane should not fall through the back.
Step six: Take the wood moulding and put it back in the sections around the front of the window pane. The easiest and quickest way to do so is using a small compressor nail gun and finished (brad) nails. However, an alternative is drilling pilot holes into the moulding to avoid wood splitting and hammering galvanised (brad) nails into the moulding to keep it in place. Whichever solution you choose, make sure you fit all moulding pieces in place with at least two nails.
Step seven: Take your caulk and follow around the outer edge of the moulding in the spaces you dug into with your utility knife in step three. When dry, you can paint over the moulding to refresh the appearance as needed.
There you have it! Your new glass pane in a wooden door.
---
On the hunt for external door hardware? Look to our range at Door Superstore or find out more about exterior door handles, locks and more via our Help and Advice section. You can also request further support for your questions and online shopping using our helpline or live chat on your screen.
Was this guide useful?
Let us know if you liked the post. That's the only way we can improve.
Thanks for rating this article.
Mentioned in this project guide: