Smart locks are modern and helpful but above all they're extremely convenient. No need to carry around keys or to worry who might have an old key to your new house, just replace your old locks with a smart lock and give out access to whoever you want to have it. You can even unlock the door remotely with some smart locks so you can open the front door from the car so the kids can run ahead. There are some other exceptional benefits to smart locks too:
1. You can give access to other people without giving them a key
With smart locks you can give access to anybody by sending them a virtual key. If they download the relevant app to their smart phone you can send them access and set limits on this too.
2. Set different access limits for different users
When you give people a virtual key on the app, you can set a limit to how their key works. For example, if you have a cleaner between 11am and 2pm on Tuesdays you can set their key to work only during these times. You can also kill a key at anytime, removing any access the key gives. Some locks offer up to 20 individual settings.
3. Use your smartphone, a card or a fob to open the door
Older relatives don't have a smartphone? Issue them a keycard or a key fob instead. Whilst it negates their benefits of keyless entry, it doesn't mean you have to have a smartphone to gain access. It's also a good idea if you want to take a smartphone away from a badly behaved teen!
4. Set up notifications for those inbound and outbound
Your phone can notify you every time the door is unlocked, and by who. It can also tell you when the door is opened from the inside however it won't be able to tell you who left. This is a simple way to keep tabs on children, especially if they're due home from school at a certain time each day.
5. High security
Smart locks offer high security by combining encrypted entry with a tamper alarm. The encrypted access means it's extremely hard to break in to the door without a given key and the tamper alarm will sound, and notify you, if someone attempts to gain access without a key.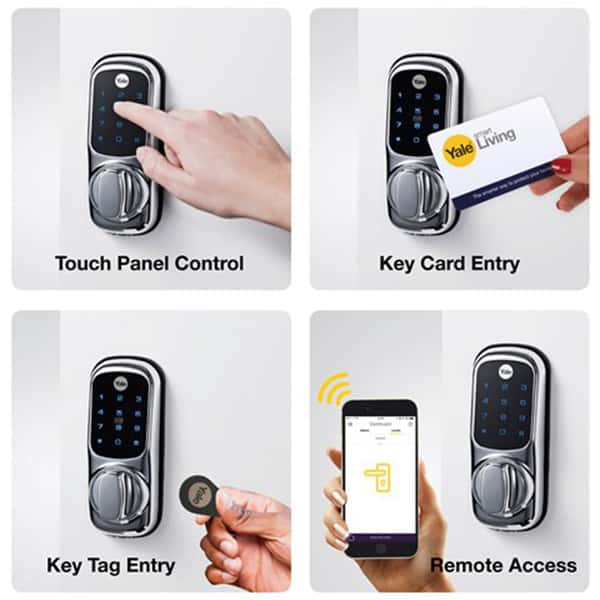 Was this guide useful?
Let us know if you liked the post. That's the only way we can improve.
Need more Help & Advice? Speak to our Super team on 01752 422 501
Can't find the Help & Advice you need? Speak to our Super team today on 01752 422 501